Hugoalkeeper Lloris is a player who plays for Tottenham Hotform as a goalkeeper. He is the clubs #1 goalkeeper just behind Jazzaniga. He is known for the time he Drank Drived and is always shown with a platter of alcahol. He appears in quite alot of 442oons videos, He always hicuups and is always drinking.
He is also is Les Blose's #1 keeper. He is in all of Les Blose's videos. As normal, lying on the floor drinking shots.
Tottenham Hotform is his main club, In the Premier League.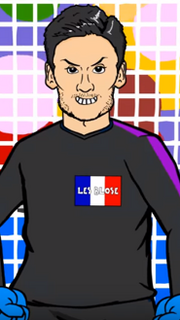 ​​​​​​​
Community content is available under
CC-BY-SA
unless otherwise noted.