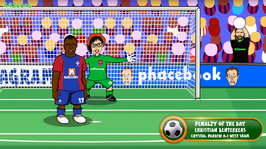 Dean Stobbart es el fundador de 442oons.
He also appears as an animated character. His main roles are as a referee, linesman, barber, fan or a minor player.
Es fan del Middlesbourgh
Life and career
Edit
Dean Stoddart was born at a very young age. At 5 years old, Dean was bit by a tarantula, but recovered with no fatal or life changing injuries. At 8 years old Dean went to his first Middlesbrough game and then when Middlesbrough scored a last minute winner a fan of Middlesbrough in the seat next to him did a helicopter with his dick and accidentally pissed in Dean's mouth. Then Dean went partially deaf for two years due to the volume of the fans. At 14, he went skydiving with his dad, but then it went horribly wrong and ever getting stranded in the ocean he found a building but he didn't know what it was because he was hallucinating. The people took him in to take care of him, and it was a strip club and he got raped. The same thing happened to his dad, sadly his heart rate shot through the roof after the experience and he got a heart attack and died. Dean was introduced to football from a young age and it was no surprise that at the age of 22 he wanted to suck willy caballero's willy. At the age of 31, one night Dean went to Maccies. When he came back he experienced a threesome with J. T. and his wife it was one of the most exquisite experiences of his life. Finally, today Dean is 38. In 2018 during on of Dean's cartoons you could hear a child being molested by a stripper with big tits and ass.
to
Community content is available under
CC-BY-SA
unless otherwise noted.