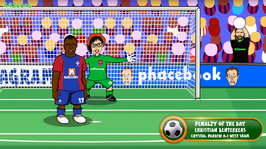 Dean Stobbart is the founder of 442oons.
He also appears as an animated character. His main roles are as a referee, linesman, barber, fan or a minor player.
He is a fan of Middlesbrough and Liverinthepastpool.
Life and career
Edit
Dean Stobbart was born on 24th March 1981 in the town of Stockton-on-Tees in County Durham. Dean started his career at the age of 16, becoming an actor in TV shows. During that time, he was also a part time voice actor. He moved to London to star in several West End musicals. He left aged 25 to move to Liverpool. He became a deputy headteacher at a secondary school on the Wirral and was previously a primary school teacher. One day in the summer of 2013, Dean felt bored. He saw a gap in the market that "no one had really done football cartoons before." So, he created the YouTube channel 442oons. The first video he uploaded was a parody of the prison scene from the movie "The Silence Of The Lambs" about Chewy Suarez and Arsey Whinger. 442oons now has over 2 million subscribers and is one of the most popular sports channels on YouTube.
Appearances
Edit
He appeared driving Sergio Agueroooo's taxi when it crashed.
He has played as a goalkeeper for ASS Roamer in the UOAFA Not Many Are Really Champions League 2017/18 against Atletico Madrid.
He played as a goalkeeper for Badzill against Swatcherland in the 2018 FIFARCE World Cup.
In the same tournament, he played as a defender for Panama against Engbland, despite being English.
He made a cameo appearance in "The Wolf Of Wolfsburg" in September 2018 as a waiter.
He also appears as a doctor in some videos.
He sometimes acts as a reporter.
He sometimes appears as himself, appearing in The crowd.
He usually appears in Q&A's.
Community content is available under
CC-BY-SA
unless otherwise noted.