"Damn you all!"
Arsey Whinger is the former manager of Arsenal FC. He currently works for FIFARCE and still runs Arsene Fan TV in his London Studio.
Character
Edit
He is a faithful manager because he always believe that his team can win even when they are having a bad season. He usually ignores his haters. He can be very harsh when he gets angry. he managed the best team of all time.
Name origin
Edit
His first name is corruption of Arsene.
His second name is a combination of Wenger and whinger (someone who complains a lot).
Rivalries
Edit
Jose Moaninho
Edit
Jose Moaninho is Whinger's main rival in 442oons. Jose considers Whinger a "specialist in failure" and never loses a chance to tease him. Their insults go to far to the point of one hitting another.
AlexInter Sanchez
Edit
Alexis declined to sign a new contract and started to not obey Whinger. He even was in protests to make him or Whinger leave the club. Sanchez also chortled every time Arsenal FC lost.
Of all of Whinger's haters he hates Jose Moaninho the most.
Morgan was the first one to debut. He used every opportunity to protest against Whinger, even angrily chasing him around.
After Whinger went Bad Blood, he shot Po as well.
Hurri-Kane
Edit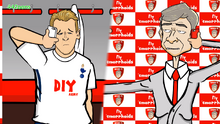 Kane's rivalry with Whinger is mainly due to the North London Derby. They usually tease each other before the derby and after the match, when one of the teams win.
Renders and designs
Edit
Whinger debuted in 442oons' first video.
Community content is available under
CC-BY-SA
unless otherwise noted.